---
Let it Go – Stress Reliever
Let it Go is a unique way to let go of negative thoughts and feelings and focus on moving forward with the positives. The app simply allows you to visualize yourself letting go of whatever you write down. Through this visualization process, you are able to make real and positive change to yourself and your inner talk. The more you use Let it Go, the more you'll catch yourself before your negative thoughts even spawn. Soon enough, you'll no longer need to let go of anything!
How does it work?
Take whatever is bothering you, write it down and attach it to the balloon within the app. When you are ready…let it go! Watch as it flies away and ceases to affect you.
Who does this app help?
Let it Go is useful for anyone that is tired of getting mad, frustrated or holding on to negativity and wants to make the change to a more forgiving, calm and happy life.
When should it be used?
Use it when you are mad, upset or bothered by something. Write down what is bothering you and let it go.
This app not only helps you let go of current stresses, it also helps you become more aware of what situations lead to negative thoughts and feelings so that you can stop those feeling from arising in the first place. As if the exercise of letting go wasn't enough, Let it Go – stress reliever is also insanely beautiful and elegantly designed. With 12 backgrounds and 4 sounds to choose from, you are sure to find yourself relaxed as soon as you open the app.
Take a look!
12 Beautiful Backgrounds
We have hand selected 12 wonderful backgrounds for you to choose from.
4 Relaxing Sounds
Relaxing background music is just what you need to set the tone for a calming minute of letting go.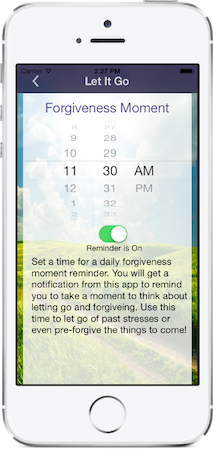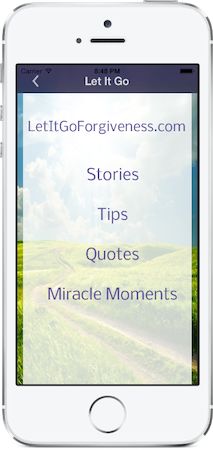 Quick Links to LetItGoForgiveness.com
Quick and easy access to our site so you can get some inspiration and stay up to date.