F
rom ACIM.org "A Course in Miracles is a complete self-study spiritual thought system. As a three-volume curriculum (included in one book) consisting of a Text, Workbook for Students, and Manual for Teachers, it teaches that the way to universal love and peace—or remembering God—is by undoing guilt through forgiving others. The Course thus focuses on the healing of relationships and making them holy. A Course in Miracles also emphasizes that it is but one version of the universal curriculum, of which there are "many thousands." Consequently, even though the language of the Course is that of traditional Christianity, it expresses a non-sectarian, non-denominational spirituality. A Course in Miracles therefore is a universal spiritual teaching, not a religion." Also available in 22 translations.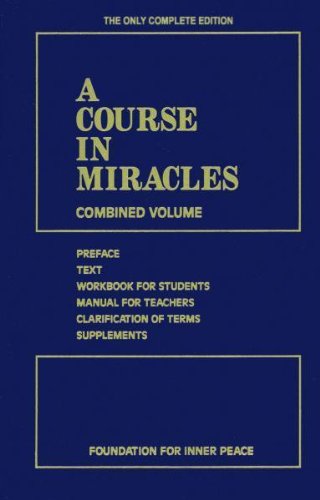 ---
What we love about it
This is a book like no other. It presents a consistent message of love, forgiveness and unity. ACIM is much easier to understand after reading Disappearance of the Universe first. Beautiful and inspiring! We encourage everyone interested in the concepts to do the course located after the main text. 365 lessons for you to do in your mind. No traveling, additional money to be spent or meetings to attend. The world you live in is your classroom.
A different perception awaits you!
---
Where you can find it