Let It Go Forgiveness
Teach only love, for that is what you are.
Forgiveness stories in which peoples lives are changed through forgiveness.
April 11th, 2014
I was in a hugely troubled marriage and I wanted to make it work no matter what. I was married a man 17 years my senior.  We both had full-time jobs and had five mature offspring between us but no children together. As the years went on in our marriage the stress kept increasing. Things started to deteriorate rapidly to the
...[Continue Reading]
March 27th, 2014
My husband, our two sons and I had been living in Peru for a couple of years when I met Emilie. It was nice meeting another Swiss woman who had also been living in Peru and had two sons around the same age as ours. We became very good friends and our families did things together almost every weekend; like going on picnics, hiking
...[Continue Reading]
Tips and thoughts for you to use throughout your day.
November 4th, 2014
Many people have a hard time forgiving others, but for some people, the hardest person to forgive is themself. They seem to hold themselves to a higher standard that does not deserve forgiveness. I have found that some of the nicest and kindest people feel this way. I love these wonderful and kind friends but this kind of thinking equates
...[Continue Reading]
August 7th, 2014
Some of us are familiar with a certain "easy" button from a major business supply store. It fits under your hand as a big red button with the word "Easy" on it. Today we'd like you create your own button, but this time a "RESET"  button. Spend a few minutes now or perhaps at bedtime when you are in a
...[Continue Reading]
August 5th, 2014
Can a quote change your life? Everyone seems to love quotes and I am no exception. One day, some years ago, I came across a quote in an unexpected way.  I had bought a crafting magazine looking for ideas to do with my kids. Above a story about paper crafters was a quote from Dag Hammarskjold: "For all that has been
...[Continue Reading]
Celebrating the little moments in life that go right!
November 6th, 2015
Recently I was invited to play in a golf scramble. A scramble is a fun way of playing where the entire group uses the placement of the best ball played to hit the next shot. It was a customer appreciation event and shouldn't have been anything to stress about, but still, it would be mostly business men who can be
...[Continue Reading]
October 20th, 2015
Not too long ago I was making my way to the airport when the driver in the car in front of me threw out a cigarette from his window. I remember my thoughts going something like this: OMG, who would do that? Haven't they heard that cigarette butts can fly into a car behind them. Wow, I wonder if there
...[Continue Reading]
September 23rd, 2014
Recently I was on the receiving end of some "Angelic" aid. On a recent trip to Mexico I did something foolish. I know I am more book smart than street smart so it wasn't a total surprise when I found myself snorkeling in a shallow reef with sea urchins looming before me. I had some moments of panic as I
...[Continue Reading]
We built a mobile app to help with letting go, forgiveness, and stress. It's a great tool to help you actively make real change.
Get the app!

Let's Be Friends
We'll send you updates every now and then.
Looking for a book to challenge the way you think, look at the world, or perceive others. We'd love to recommend one.
Go!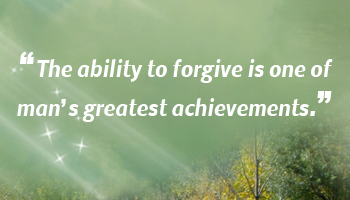 Love quotes? We do too!
Read quotes and discuss them with our community.